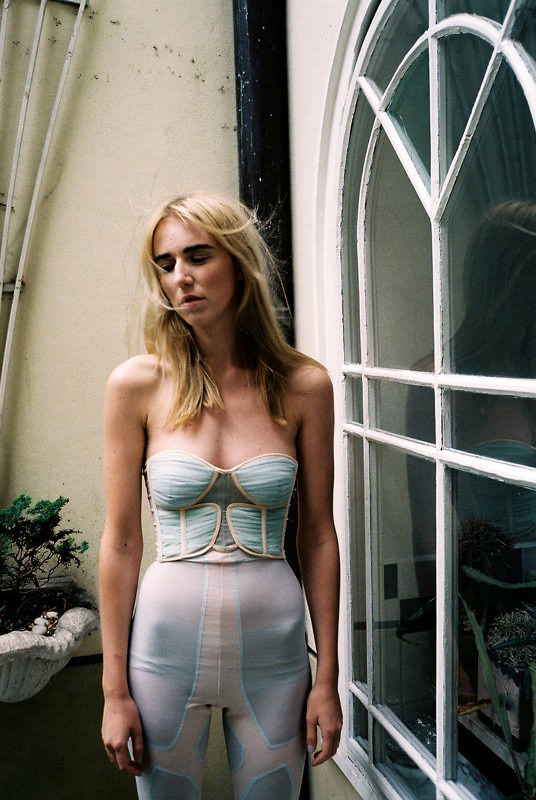 text & photography - Alexandra Bondi de Antoni
models - Kirsten & Flora by Wiener Models
styling - Isabelle von Spreckelsen
hair & make up - Patrick Glatthaar
//————————————————————————————————————————————————//
Dazed Digital: What's your collection about?
STELLA ACHENBACH: Originally I started by recreating my own coming of age story and translating it into 4 mini collections within a full one. My collection 'jam jars & next-door houses' is about femininity and growing into a role you desire for yourself as a woman in todays society.
//————————————————————————————————————————————————//
Dazed Digital: What are your plans after graduation?
STELLA ACHENBACH: I would like to gain more experience in the fields of couture and lingerie and take on a suitable internship. Also I would like to learn more about high-tech fibre fabrics after visiting Jakob Schlaepfer for some of the fabrics used in my Diploma Collection.
//————————————————————————————————————————————————//
Dazed Digtial: You studied under Veronique Branquinho and Berhardt Willhelm, what changed and how did those two influence your work?
STELLA ACHENBACH: Veronique helped me to find my working flow, I still remember the time she got us "the working circle", so that we would be more on time with our projects. Also she helped me developing my first collection at Angewandte, which let me discover my first aim in fashion: Feminine excellence. Bernhard on the other hand helped me to experience fashion. He always asked us to try things out on ourselves and was very supportive also on more experimental ideas! As for his influence on my work, I have to say, that he helped me to realize that I actually would like to work on undergarment or lingerie inspired fashion in the future.
//————————————————————————————————————————————————//
Dazed Digital: How did your perception towards fashion change during your studies?
STELLA ACHENBACH: During my studies I started realizing that fashion is not just something you wear, it is also supposed to support and even protect you. For me fashion now could also be called armor and it starts with what you wear underneath the obvious.
//————————————————————————————————————————————————//